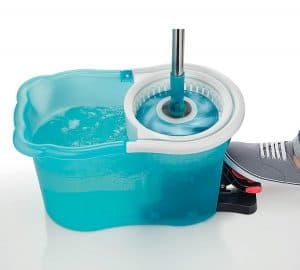 The Hurricane Spin Mop Home Cleaning System is a whirlwind of spinning cleaning action. This system consists of a mop with a 360° swiveling head of microfiber strands and a non-rolling bucket with two compartments: the washer side for holding water and the dryer basket. The basket's centrifugal technology spins away dirty water and dries the mop head in no time at all! You can clean and "wring" the mop without ever touching the water or wet mop head.
Now get this:
Because the microfiber mop head is gentle, feel free to use it on all types of surfaces. Removable and machine washable, the mop head is economical: it can be washed and reused many times. Finally, the head rotates 360° for reaching around corners and along baseboards.
What's more:
The Hurricane Spin Mop Home Cleaning System also picks up dust, dirt, pet hair, and more without sweeping. People have found they can use this model for not only mopping, but also dusting and polishing.
To see how the Hurricane Spin Mop Home Cleaning System works, watch this video.
Features
Dimensions: 2" x 11" x 12"
Weight: 5.11 pounds
Microfiber head picks up 10 times its weight
Foot pedal activates spinning dryer basket