If you're looking for a quality evaporative cooler, the Honeywell CO60PM is a great choice. Honeywell is a reputable company known for making user-friendly and powerful devices, which is evident in this product.
The CO60PM provides you with a delightfully cool breeze. It has a huge tank capacity of 15.9 gallons and has a CFM of 1540. The unit is quite large, so it's not suitable for small indoor areas. However, it can be used both indoors and outdoors, and our research has found that many people use it to cool down their backyard or patio.
With the UV protection featured in this product, you can easily keep it outside without risking issues. It can function unattended for a long time, be it throughout the night, or all through a picnic, family gathering, etc.
This product features three appliances in one – an air cooler, a fan, and a humidifier. When you switch the unit on, the fan creates a breeze by blowing the existing air out. If this air is too warm for your tastes, you can simply add water and/or ice to the tank, and the unit transforms into a cooler.
The unit also uses the water and ice to create humidity, which makes it great for dry climates, but avoid buying it if you live in a humid area (the recommended level of humidity is under 60%). Also, smaller spaces tend to become really humid when using this unit, which is another reason why it's not recommended for small indoor areas.
Now get this: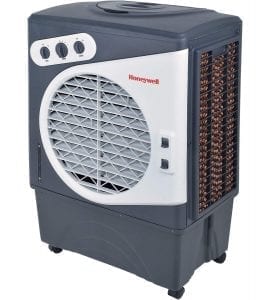 The CO60PM comes with three fan speeds, and we've found that most users find the lowest setting to be powerful enough for residential spaces. The unit is great for whole-room cooling because it cools on three sides, not just from the front. It also has oscillation modes, and many users enjoy the fact that the unit can blow air both from side to side and up-down.
When it comes to energy efficiency, this is one of the better models out there. Considering it has a huge cooling capacity, this unit has minimal energy consumption, while also having maximized airflow. It provides fast air circulation and consumes a low amount of power.
The unit is sturdily built with high-quality materials, and it's quite large. But the wheels on this unit make it extremely easy to move around. Also, we've found that the controls are easy to understand and use, even for new users who have never used an evaporative cooler before.
You might be wondering:
Are there any downsides to using this unit? Many users complain that the unit can be complicated to clean because you need to unscrew a few pieces to get to the inside. Also, if you're a pet owner, be aware that the unit can attract pet hair which is difficult to clean off. The material makes the pet hair stick to the pads, so you might need to cover them from the outside to prevent any hassle.
Another huge pro for this unit is the company itself. Although users sometimes have issues with certain parts arriving faulty or broken, the company offers amazing customer service, with spare parts being delivered free of charge in a short amount of time, and returns are also handled professionally.
Features:
Portable
Dimensions: 18.35 x 27.56 x 40.04 inches
CFM: 1540
Tank capacity: 15.9 gallons
220 Watts
Three appliances in one - Cooler, fan, humidifier
Three fan speeds
Cools on three sides
Oscillating louvers (up-down and side-to-side)
Durable copper water supply lines
Non-compressor system
UV protection
User-friendly controls