Most air purifiers that are suitable for large rooms rely on the power of the fan to increase the air intake. Honeywell has taken a different approach to the airflow problem by using a circular design with intake and discharge vents all around the device. This innovative design results in an efficient device that lets you clean the air in larger rooms without expending a lot of energy (or spending a lot of money).
And guess what?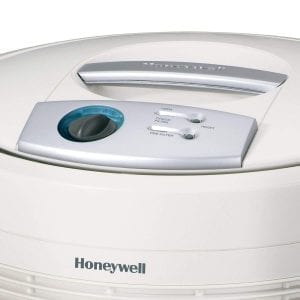 Honeywell has brought that same forward-thinking attention to detail to the rest of this air purifier's design, too.
The Honeywell 50250-S uses SurroundSeal Technology throughout the device. This makes sure that all the air pulled in is pushed out through the filters instead of sneaking through a crack—and that ultimately translates to cleaner air.
The classic combination of a carbon pre-filter and true HEPA filter captures allergens and eliminates most odors as well as devices that cost twice as much. This carbon pre-filter is especially useful for larger particles, including carbon and mold spores, catching them before they reach the HEPA filter and extending the time between cleanings.
This isn't the most powerful air purifier out there. It won't be incredibly effective against difficult smells, like smoke, and it can't capture viruses or other extremely small particles. For eliminating mold and mold spores from your air, though, it's highly effective, and one of the more cost-effective options you'll find—especially if you're looking for something to work in a large space.
Features:
18" X 18" X 19.5"
21 pounds
Coverage area up to 390 ft2
Filters: HRF-AP1 pre-filter, re-usable true HEPA filter
Filter Life: 3 months