Honda makes more than just Civics and 4-Runners. They produce plenty of equipment as well, and most are known to run just as long as the engines powering their vehicles – they are hard to wear out. While the company doesn't make a traditional gas or electric pole saw, they do have the Honda VersAttach system which works with a 12-inch pole saw attachment.
This Power Head is available in two different styles, but we opted for theUMC435LAAT which carries the Super Quiet tag. While it's still a chainsaw and we didn't put that to the test, it's more powerful than the UMC425, and the extra power comes rather cheap. As any gas pole saw, you can expect an ample amount of power along with some additional weight.
How heavy is it?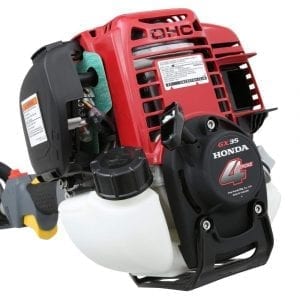 The head itself weighs 13.2 pounds sans any attachments. The pole cutter weighs around 4 pounds, so you're looking at close to 20 pounds with a fully filled gas tank. That's more than twice the weight of some electric models, but you shouldn't let that rule the UMC435 out. As it's built like a weed eater, it has a handle to give you leverage and control over the cutting head. It also comes with a harness… like we said, don't rule it out.
This reliable tool uses the company's SureLoc system which allows you to switch heads with ease. The motor itself is built to be more efficient than other 4-stroke motors and has some interesting features to boot. The design allows you to store it in any position so you can hang this head or slide it under a bench. Hate mixing gas and oil? Well, you are in for a pleasant surprise.
Perhaps the coolest thing about this gas pole saw is the fact it runs off good old-fashioned unleaded. Yes, you'll still need to pick up some oil, it just doesn't get mixed with the gas this time around. The pole saw attachment needs it although it has an automatic oiler and a handy translucent oil reservoir.
We couldn't dig up many tech specs on the saw unfortunately, but it does have an Oregon 91 series chain. The 12-inch bar is of unknown origins and its 30.9 inches long, so your total reach is around 6 feet. As mentioned, you generally don't get the same range with gas powered pole saws, and this one is no exception.
The Honda VersAttach System and the pruning head are covered by a 3-year warranty for residential use or 2-years if you plan to use them in a commercially.  The set comes with a user manual, harness, safety goggles, sharpening file, and sheath.
Features
35cc 4-stroke motor
Anti-vibration system
Works with six different attachments
SureLoc system
Steel driveshaft