This Homeleader meat grinder is the perfect choice if you want to grind some meat as a hobby or are looking for a small grinder for the family. It has 250 watts of rated power and a stainless steel grinder head, which means it's both powerful and durable.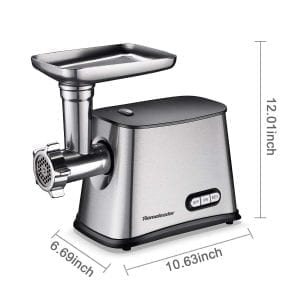 When we were doing our research, we found that the best thing about this grinder is that it's extremely energy efficient. It also has a circuit breaker which prevents the motor from overheating and it comes with a safety switch.
When it comes to operating the grinder, it's extremely simple, so even beginners have no problem with it. It's also simple to clean and easy to maintain.
But there's more:
This unit comes with three cutting plates so you can cut your meat into different-sized chunks (fine, medium, coarse), and it also includes a sausage attachment, kibbeh attachment, cutting blade, food stuffer, and hopper plate. Unlike some other units out there, this one includes only one sausage attachment.
Another downside to this model is that it's not recommended to put any part of it in the dishwasher. But on the other hand, the unit is very easy to assemble and clean, and there's a handy reverse function.
Features:
Weight: 3 pounds
250 watts rated power
Stainless steel grinder head
Low power consumption
Circuit breaker
Reverse function
Safety switch
Comes with 3 plates
Includes sausage attachment, kibbeh attachment, cutting blade, food stuffer, and hopper plate