The Hitachi C10FCG is a great, affordable saw, even if it's a little basic. The C12RSH2 is the next step up from the company as its larger and considerably more capable. It can make any cut a wide variety of cuts and this particular bundle will have you ready to roll straight out of the box.
Hitachi pulled out all the stops for the C12RSH2 aside from the positive ones which allow you to set your miter range. All the common ones are included from 0 to 45-degrees on the left and 0 to 57-degrees on the right. The bevel range is 45-degrees left and right. This is 12-inch saw provides you with plenty of clearance between its size and sliding nature as you can see from the tech specs…
Specs list for photos (90 & 45/45-degree crosscut and bevel measurements)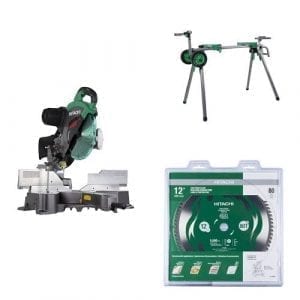 This saw can slice through wood with the best of them and is well built with a thick top guard, spacious table and a weight of 59 pounds sans the stand.  A few of the plastic parts feel a bit cheap, but none are horrid, and users love the handle. It's vertical and sits on the housing above the blade. While the trigger is traditional, the handle allows lefties or righties to use this saw with ease.
Hitachi went with a 15 amp motor on this saw which hits speeds of 4,000 RPMs. It's a belt-driven system with carbon brushes although you can access them for cleaning or replacement thanks to the design. It also has a built-in laser to help guide your cut along with a decent dust collection system and large sliding rails.
The extras…
One of the big draws for this saw is what comes with it. You can purchase the saw by itself, with a stand or with a blade and stand. We're recommending the latter unless you already have a stand as you're getting a lot of bang for your buck.
The UU240F has a steel frame and can hold 400 pounds with ease. There are material support extensions that give you an additional 8 feet while a tool-less height adjustment system makes setup simple. The quick release mounting brackets help in that regard as well, and everyone can get behind non-marring rubber feet and wheels to let you roll everything around.
12-inch miter saw blades aren't cheap, and while the one that comes with the saw isn't bad, the Hitachi 115436 is better –especially if you're doing fine finish work. It's an ATB 80 tooth blade with a thin kerf from the company's VPR lineup and an excellent choice when working with trim or molding.
The Hitachi C12RSH2 is a great tool for beginners, and we love this kit as it has everything you need. While the build quality may be a little underwhelming in a few areas, it strikes all the right notes where it counts. It's hard to argue with the price as well considering you're getting a full kit for the price of a bare tool from other brands. The saw comes with the aforementioned extras, a 17mm box wrench, dust bag, instruction manual, and vice assembly.
Features
Compact design with zero rear clearance
Carbon brush access
Large sliding fences
Vertical ambidextrous handle