While most multi-game tables have bulky surfaces you can add on top of your playing field, the Hathaway Rapid Fire has an interesting twist to this concept.
The other two games you can play using this air hockey table require a larger open space. You might want to play this 3-in-1 outside if you don't have a big open space in your home.
Basically…
… you have two panels you can drape to the side of the table, revealing a playing surface for either hockey or soccer. You also get a soccer ball and two hockey sticks, so you can play a tuned-down version of these games as well.
It's obviously intended to be used by children, and we really think they'll have a great time with the product.
Is it a good purchase?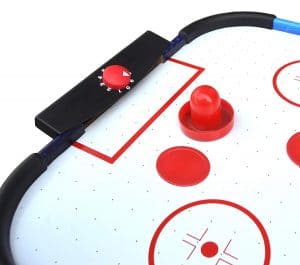 If it's intended to be used by kids, definitely.
But there's more to this table that meets the eye.
Even though we like the playing surface, and how the electronic scoring add-on works perfectly, we do have a major problem with it.
Where this product falls short…
...is in terms of durability. The support structure (especially the legs) is very flimsy, and you may need to look for a different table in a matter of months.
On top of that,
Shooting pucks and soccer balls at it with the side games certainly doesn't increase the already questionable stability.
The kids may have fun with it, but it's certainly not the smartest financial decision.
Features:
42-inches multi-game table
Plug-in motor
Electronic and manual scoring