Compact and economical, the Harvil Hydraulic Rowing Machine is perfect for a home rower who wants to get a good workout and then stow the erg away easily. With "insect-like" arms, it offers a full range of "realistic" rowing motions.
What's more...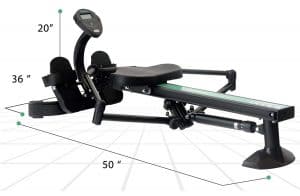 Simply turn a knob to adjust the level of hydraulic resistance for your needs. One person notes even when the pistons become hot through use–as expected with this type of rowing machine–resistance still works well.
The good:
Described as "sturdy" and "stable", the Harvil Hydraulic Rowing Machine is smooth and quiet in operation. Users can watch television while gliding back and forth with each stroke. The seat is fairly comfortable, although at least two reviewers find it "not comfy" and suggest purchasing a seat cover/cushion.
The bad:
The most common complaints were about the footrests.
People find them "flimsy" with feet slipping off the rests easily. Although the manufacturer Dazadi notes the machine has large pivoting footplates with safety straps in two positions to hold any size feet, many users disagree.
Two people with big (size 11 ½) feet dislike the footrests while someone with small feet finds the rests fine.
Many reviewers note the Velcro straps are poorly positioned to secure their feet without them having to interrupt a workout in order to stop and adjust the straps.
The definitely not ugly:
What people do love about the Harvil Hydraulic Rowing Machine is its ease of assembly, as described in the assembly manual. For a video demonstration of assembly, watch this.
The machine folds up conveniently when not in use and stands up to lean against the wall for storage–definitely saving space.
The manufacturer Dazadi will repair or replace defective parts at no cost during the warranty period. It describes the return policy here.
Features
Dimensions: 50" long x 36.22" wide x 20" high
35.4"-long steel frame
Weight: 34 pounds
Maximum user weight capacity: 265 pounds
Includes LCD monitor which displays time, row count, and calories burned