Want a good 4 slice toaster?
It seems Hamilton knows exactly what works. Their Cool Touch model is constantly praised, and not just because of its beautiful, modern exterior.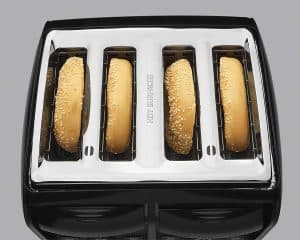 When it comes to performance, this toaster is highly versatile. Using its five different shade settings, you can control how brown your toast ends up. You can also toast both fresh and frozen bagels, as well as frozen bread. Thanks to it's two completely separate sets of slots, you can even prepare two different kinds of toast at once.
Wide toast slots allow you to fit in any type of bread. Once the toast is done, it automatically pops up. Cool Touch technology prevents the housing from getting hot. You'll also have no trouble cleaning it thanks to the removable crumb tray.
Unfortunately…
If you insist on evenly toasted pieces of bread, however, you might want to look further. Also, this toaster is way too big for those who use smaller kitchens.
Features
Black exterior with metal accents
4 toasting functions
Separate toasting controls
5-inch slots
Automatic toast boost
Cool Touch housing
5 shade settings
Removable crumb tray