If you're not sold on any of our cordless pole saw reviews, but like the Greenworks 20672, you may want to consider the companies electric variant. It has a similar style and set of features, so the only real difference comes down to performance and price.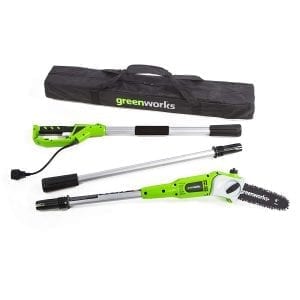 Greenworks felt they had a winner on their hands with their corded kit, so they kept things the basically the same on the 20192. That means you'll still get a dependable 8-inch Oregon bar and the pole is still made from aluminum. It's a 3-piece telescopic pole saw shaft which is light, but limited as you can only reach a little over 8 feet.
Is it just as powerful?
More or less as you're getting the same cutting system, just with a 6.5 amp motor and a cord instead of a 40V battery. You have to adjust the tension through a screw which is a bit of downer, and not as "easy" as the manual would lead you to believe.
Just like with the cordless model, you'll need a screwdriver on hand at all times.  The oiler is automatic and works as you'd expect with few reports of excess dripping. You'll still have to deal with occasional leakage like any other tool of this nature, but nothing severe from what we can tell.
Greenworks could have handled a few things differently with the 20192 as we would have liked to see a real tool-less tensioning system. In a nutshell, it can cut as well as the rest of our electric pole saw picks, so it boils down to the power and its overall reach in our eyes. The pole saw comes with a 4-year warranty, storage bag, and an owner's manual. You can also pick up a bundle with a 14 gauge 50-foot extension cord if you don't have one already on hand.
Features
6.5 amp motor
8-inch Oregon bar
3-piece aluminum pole
Easy-adjust tensioning