The GOTRAX Glider Electric Scooter for Kids & Adults is popular with teens and young, middle-age, and senior adults. Stable, sturdy, and heavy-duty, this model is safe and comfortable for kids and grown-ups. One 6'5"-tall rider tried and likes it but thinks that people in the 5' to 5'11"-tall range are ideal. A self-described "large frame" person weighing 240 pounds finds the scooter fast and powerful.
Feel the need for speed?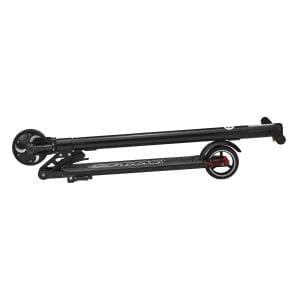 The GOTRAX Glider Electric Scooter for Kids & Adults cruises up to 17 mph but you have to know how to get the scooter going that fast. Two reviewers note that directions for changing gears aren't clear and offer these helpful instructions:
1) Push the red power button once to turn on the scooter.
2)  Double click the button to switch to second gear, as indicated by two rows of vertical lights.
3) Double click again to switch back to first gear, as indicated by one row of vertical lights.
Not a great feeling…
Cruising on the GOTRAX Glider Electric Scooter for Kids & Adults is smooth for many people, but we also found complaints of bumpy rides. The scooter's hard rubber wheels and lack of suspension result in riders feeling every vibration from road cracks, pebbles, and sticks.
Caution
A few reviewers warn riders to watch out for potholes and rocks because it's "easy to fly off" when hitting a bump. Helpful advice: bend your knees a little to help absorb shocks.
Also be aware
While the brakes work well for some–one person noted they were effective even while rolling downhill– they're not hydraulic. Therefore, you'll need brake sooner/earlier in anticipation of stops because immediate stops are almost impossible.
What goes up…
The GOTRAX Glider Electric Scooter for Kids & Adults' battery is easy to charge and has a "good" life. Its nine-mile range allows for people to get out but not get stuck far away from home. Even better, if you use the motor to assist your kick-propelling (instead of enjoying a completely free ride), you can save some battery "juice" and get some exercise.
Here are a few testimonies about the scooter's performance on a fully charged battery:
After a good boost to start off, a 200-pound rider reached 20mph
A 5'4", 170-pound person efficiently climbed a hill
After one hour of continuous use, the battery still had about 75% charge remaining.
An owner rode the scooter for days on hilly slopes and still, the battery still has "juice"
…must come down
Nonetheless, the battery declines over time. After several weeks, the battery's range and ability to hold a strong change deteriorated for some users. A few reviewers don't think the battery works well enough for inclines.
On the other hand
Three features were overwhelmingly praised. First, the bright LED headlamp is "radiant" and "great for night riding." Second, the GOTRAX Glider Electric Scooter for Kids & Adults folds up and is light for easy handling, transport, and storage. Third, the customer service and support are excellent.
Warning:
We just want to pass along reports of the handlebar breaking (three) or, due to lack of a screw coming apart (several), which led to injuries.
To see this model's manual, click here.
Features
Weight: 17.1 pounds (net), 20.9 pounds (gross)
Dimensions: 39.3" x 36.2 x 14.4" (unfolded), 39.3" x 14.4" x 6.2" (folded)
Minimum rider weight: 88 pounds
Maximum rider weight: 264 pounds
Height requirements: 51.1" to -78.7"
Motor power: 250 watts (rated), 450 watts (maximum)
Battery: 24-volt, 5.2Ah, lithium-ion
Battery charge time: three hours
Range: 9 miles
Maximum speed: 17 mph
Climbing capacity: 12° incline
Brake: hand-controlled brake and backup foot-activated slowing system
90-day limited warranty