Charcoal filtration is key for getting the ultimate in odor reduction, whether those odors are from pets, smoke, or the food you cook. While most air purifiers with a carbon filter are in a higher price point, you don't have to spend a fortune to take advantage of their smell-killing power.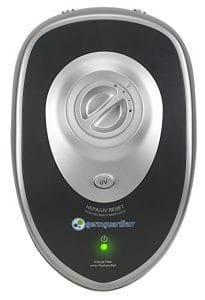 This 3-in-1 air purifier from GermGuardian gives you access to that next level filtration power for less than a hundred bucks.
The activated charcoal used in the GermGuardian Air Purifier is in the pre-filter stage. This is also the area that captures pet hair, dust bunnies, and other larger particles that can reduce your home's air quality. Considering the pollutant levels in indoor air can be 5 to 10 times those of air outdoors, this can really help you to breathe easier.
But that's just part of the story…
The GermGuardian doesn't just filter your air, it also purifies it. It titanium dioxide activated by UV light to kill micro-organisms that are lurking unseen in your air. This could be things like germs, viruses, and bacteria, including common infections and illnesses like the flu or staph, as well as mold spores and other typical household ailments.
This air purifier is designed for use in small and medium-sized rooms. It's not going to work as well in large spaces as some of the heavier-duty options on the list, but it's also much smaller—less than ten pounds, with a convenient tower design that makes it easy to move from room to room.
If you're looking for an all-purpose air purifier to remove smoke from an apartment or small home, the GermGuardian can fill that role, and at an exceptional value.
Features:
Cord length: 6 feet
Filters: HEPA (B/FLT4825)
Filter life: 6-9 months
Dimensions: 7" X 10" X 21.5"
Weight: 7 pounds
Limited Warranty