Garmin is a name consumers know and trust, and it's a brand you'll get to know quite well by the time we get to our 5th pick.
Our first choice from the company is arguably their best.
And...
Ideal for hunters who want stay connected in the wilderness while tracking game big or small.
The Garmin GPSMAP 64st has a sturdy and thick plastic housing that's easy to grip. We couldn't find any information as to how well it can handle repeated hard tumbles, but it does have the IPX7 rating against the elements.
Our testers did say this: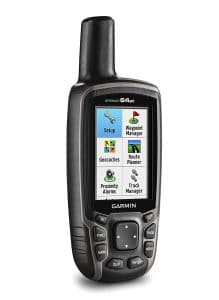 The outer shell looks like it will hold up well over time. It feels like a quality product when you're holding it in your hands. It withstood the regular wear and tear the testers put it through with ease.
We also like the fixed antennae, and the fact it's lightweight at only 8.1 ounces with batteries intact.
In the connectivity department, this particular variant of the GPSMAP 64st has a few extra bells & whistles.
It's compatible with ANT+ accessories which allows you check on your fitness while you hunt – that includes your heart rate when a big buck comes into view.
Bluetooth is also included so you can sync up with your handset through the Garmin Connect app.
This opens the doors to new possibilities including sending your position to other Garmin users.
The 64st has a standard USB port which comes in handy when you need to connect to your PC or recharge your batteries.
How about the power?
The battery life for the GPSMAP is one of the reason's it's the best GPS for hunters.
At 16-hours, it's highly unlikely you'll run out of juice before you head back in.
Do you prefer overnight excursions to one-day hunts?
If so, you'll appreciate the fact you can simply insert two new AA batteries, and you're good to go again if you don't dig rechargeable NiMHs.
As for the maps, this one comes with over 100,000 preloaded TOPO maps for the states.
You can load up your own as well considering it has 8GB of memory and a solid suite of software.
The unit can connect to both GPS and GLONASS systems, and so you won't have to worry about coverage or reliability with the quad helix antenna.
You'll also get a free 1-year subscription to BirdsEye to get you started.
Garmin went with a 2.6-inch color display for the 64st.
It sports a resolution of 160 x 240 and is of the TFT variety.
It's also easy to read in direct sunlight due to its transflective nature.
While not the sharpest display, it won't let you down in direct sunlight and should be large enough for most folks.
Want a touchscreen display?
You're out of luck with this model.
But is that necessarily a bad thing?
Nah.
Not according to our experts, anyways.
The "ease of use" factor is still extremely high since the buttons are all clearly marked and easy to access.
The GPS unit doesn't come with any real extras to speak of aside from a 1-year warranty, a carabiner clip, and a manual – the latter of which you can check out online.
It's one of the top options around if you need a reliable unit in the field, and we're not the only ones who think so…
Unlike other models, Garmin is giving consumers a choice with the GPSMAP 64.
Aside from the 64st, you can pick up a barebones base model or one with ANT+ and Bluetooth, but sans the map.
There's also TOPO version for hunters bound for Canada to go along with a variant featuring a built-in 8MP camera.
Now that is cool.
Features
5000 waypoints
10,000 track log points and 200 saved tracks
Paperless geocaching
Basemap
3-axis compass
Barometric Altimeter