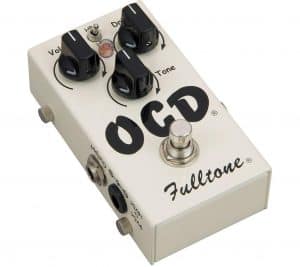 The OCD from Fulltone has been around for a while, and it graces the pedal boards of players the world over. The most recent release of this iconic pedal has the same sweet crunch as the original.
Great things will happen if you get an 18V AC adapter for the OCD. This pedal takes a lot of power. If you want that devastating, heavy metal-style overdrive, a 9V battery just isn't going to cut it. It can give you a more subtle overdrive if you want, too, although the effect range is definitely not the widest on the list.
Fulltone makes reliable pedals, and the OCD definitely has a great tone. It maybe costs a bit much for what you get, and it's not the most versatile option, but it's a solid effect that's definitely worth considering for metal players and hard rockers.
Features:
Controls: Volume, Drive, Tone
Dimensions: 5" X 3" X 2.5"
Weight: 1 pound
Power: 9V battery, 9V or 18V AC adapter
True Bypass
5-year Limited Warranty