The Forney 29901 MIG Welder is a simple, well-built machine. Weighing 57 pounds, it arrives with a small wire brush, two pairs of gloves, a grinding wheel, and two extra tips. It's very quiet when switched on and easy to use.
We were able to run many spools of wire without any problems and replacing the wire is a piece of cake.
For a hobbyist, the auto-dimming helmet is all you will need to come up with a quality weld. However, you can still upgrade with a better helmet.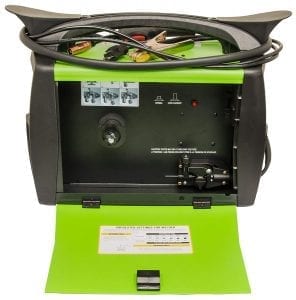 Unfortunately…
This machine has a rather low duty cycle of only 20%. But for the money, it's still tough to beat. For safety, it's fitted with a thermal alarm that alerts you in case you exceed your duty cycle.
The Forney 29901 is best suited for do-it-yourselfers who have occasional welding work around the house/farm. It runs on 120V and 125A, meaning it's best suited for low to medium duty welding.
The kit arrives with pretty much everything you might need to weld, but we recommend getting higher quality flux cored welding wire to be on the safe side.
Features
Great for hobbyists and DIY-ers
Individual part numbers are included for easy reordering
Runs on 120V at 125A