Calming Waters is surely a perfect name to describe this product.
We really liked using this tub.
Why exactly?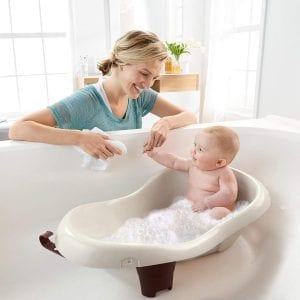 The reasons are many: awesome design, innovative features, and versatility.
The first thing we loved was the design.
Not only is this piece aesthetically pleasing, with a chic brown and white design, it's also very versatile.
The product description claims it fits single and double sinks, which is absolutely true.
Our testers didn't disagree.
The build of this Fisher-Price is perfect to suit many sink sizes, so it even (almost) overcomes the portability issue.
Lastly, in terms of design, we really liked the sling feature. Unlike market competitors, which feature small removable objects to make the tub grow with the baby, this gem has an entirely adjustable sling system.
The sling is extremely comfortable, and it ensures you can use this baby tub for a long time.
What we liked even more is the sling can be removed altogether, making this fit for any body size and most ages up until 18-24 months.
What about the vibration feature?
It's really something.
With the touch of the button (and the use of a battery that, as of right now, is not included in the package), this product will start vibrating just slightly, claiming it can soothe the baby.
Does it work?
From what our experts told us, the baby is calmer when the vibration feature is on.
Online reviews and experts seem to back this, so if your little one is raising a ruckus at bath time, you should give this product a closer look.
If you want to give this piece a closer look, check this video review.
What about problems?
The rating's not a 10+, so what could be the issue?
Well, it's maintenance.
The plastic stopper that will eventually replace the sling, is a mess.
It does its job, but it's extremely hard to remove for a proper clean-up. We mean "butter knife to remove it" hard.
For that reason, a lot of parents just gave up cleaning the component.
Big mistake, because after a few weeks mold will start to accumulate underneath, which can give your little one eczema.
Yikes!
Admittedly, this is only a problem if the user themselves don't clean the piece thoroughly.
Regardless,
Many parents have had this issue, and Fisher Price did nothing to improve the situation, like sending transparent stoppers or making them easier to remove.
You can find the user manual, here.
Features:
In-sink design
Adjustable components
Awesome vibration feature