If any baby bath tub is customizable, it's the 4-in-1 Sling 'n Seat from Fisher Price. It covers four stages of development and comes in a variety of colors.
Not to mention, it can be used in-sink or on the counter.
The main perks of this product are easy to spot.
For newborns, you can use the very comfortable sling. When your baby's grown a little, you can move up to the baby stoppers, then the Sit-Me-Up aid, and finally use the entire tub for your "newly promoted" toddler.
The differences that set this fixture apart from normal grow with the baby tubs…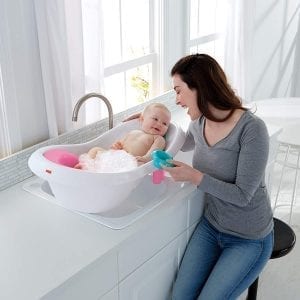 Are, first of all, the Sit-Me-Up chair, and, secondly, the care with which every add-on has been built.
Fisher-Price actually took into account the different needs of the growing baby with this product, such as the need to educate them in sitting straight which is covered by the Sit-Me-Up chair.
That's a plus when it comes to product development, a recurring theme for the big company.
If we're to talk base materials…
We can praise the tub maker just as well. All four previously mentioned components are made out of good quality materials and feature ergonomic surfaces. Perfect for comfort and avoiding any slippery incidents.
On top of that...
Your little one can have a fun time with the whale toy included. It's a scooper toy, so who knows? Maybe your little one can develop a passion for water-related activities.
It sounds like a slippery slope (unintended pun), but anything that happens during these early years can have an abstract meaning for a lot of future adults.
Using the products that can enrich your baby's experience is a good idea.
Case in point?
The awesome baby jumpers and the baby walkers we reviewed not too long ago.
So what's the downfall?
This product seems so well thought out, why does it take last place?
Well, unless you're ready to be extremely careful and do some modifications to the product, you may want to steer away from this piece.
With all their product development care, Fisher Price included baby stoppers that are (relatively) pointy. If you're not careful with your little one, while in stage two they can hurt their toes on these pointy parts. No lifelong damage can be caused, but we're 100% sure no parent wants that to happen to their little one.
It's not just theory…
Dozens of customers reported this type of injury after a stage two bath. If you're not equipped to polish these stoppers somehow, we recommend you closely check other options.
Is polishing your thing?
This product might just be what you need. If that's the case, we suggest taking a closer look at this Fisher tub with this video review.
Features:
Smart grow-with-the baby system.
Versatile in-sink or basin design.
Whale scooper toy included.