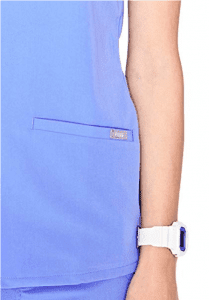 Even though this item is only a scrub top (not an entire set), it earned excellent reviews and we wanted to let you know about it.
First off, wearers love the material and the fit of the FIGS Casma Three-Pocket Scrub Top for Women. Its high-quality and "super soft" fabric is perfectly comfortable, which is "so important" when wearing scrubs for long shifts.
What's not to like?
The FIGS Casma Three-Pocket Scrub Top for Women is "flexible" and great for moving in. It's made from four-way stretch material that's moisture-wicking, antimicrobial, and anti-wrinkle, qualities that are perfect for busy health-care professionals in the trenches.
The manufacturer FIGS recommends an easy-care routine: wash in cold inside-out and then tumble dry low.
And...
The shirt has a tailored fit with slimming back darts and side hem slits. Its modern V-neck is fine for most but low-cut for a few, who feel like they need to wear something under the top.
People like the pockets (two front, one with a hidden inside pocket) but wish a petite length is available. The shirt runs large and loose for some wearers yet small by one size for others.
Despite its fitted style, it looks "boxy" for some female bodies.
Here's size-specific feedback we tabulated:

This is really cool…
What we like about FIGS is the company's philanthropic practices.
Under its "Thread for Threads" initiative, FIGS donates scrubs to healthcare providers and medical professionals in resource-poor areas in more than 35 countries.
Each FIGS garment style is named after cities where they've donated scrubs. Casma is a city in Peru.
We also like FIGS' origin and mission.
The company was started by Heather Hasson who heard from her nurse practitioner friend how boxy, scratchy, and uncomfortable scrubs were–and that she had to wear them all day while helping others.
Ms. Hasson and company co-founder Trina Spear formed FIGS to improve scrubs with as much care for healthcare professional as these workers put into patient care.
The philanthropy may explain why the FIGS Casma Three-Pocket Scrub Top for Women isn't economical.
Some consumers feel that the shirt is overpriced.
Features
Fabric content: 72% polyester, 21% rayon and 7% spandex
FIONTECHNOLOGY fabric: four-way stretch and moisture-wicking
Number of pockets: three