Are you someone looking for a wide range of napping options that won't break the bank? Then you should take a look at the Esright Massage Recliner Chair!
On top of that!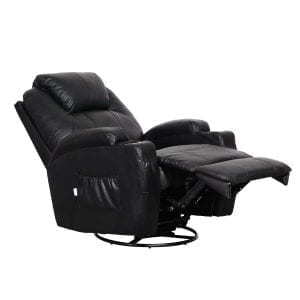 The Esright heats, massages, and vibrates with five different modes and two levels of intensities—optimal for relaxing those muscles and joints before you drift off into Dreamland!
(We even recently named the Esright the Best of the Best Massage Chair for Back Pain in 2018!)
If that's not enough...
After 20 minutes of nonstop use, the chair's included safety measure kicks in and turns off to make sure the napping party doesn't overheat!
How considerate!
Well, maybe YOU should consider this chair's remote control, two cup holders, four storage bags, and its inexpensiveness!
And if you're anything like me…
You get dehydrated while you sleep—making you a cup hoarder—and the two cup holders just won't cut it.
But since the chair is so cheap, you'll still have some dollars leftover for a little something extra. So make sure to check out these matching end tables for your extra coffee mugs and water bottles!
It can't all be great...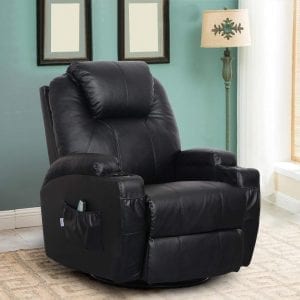 We did get some feedback about the footrest on the Esright Recliner being a little tricky sometimes. And since it's a massage chair, it requires electricity and needs to be near an outlet, limiting the number of places you can put the chair. Of course, you could also grab an extension cord to remedy this.
But the positive comments we heard FAR OUTWEIGH the bad!!
We heard it through the grapevine:
Customers can't stop talking about the handsome and easy-to-clean faux leather, making it the perfect nap spot for any office, living room, man cave, or she shed!
And over 45 different owners of this chair commented on the "excellent value" or "great price!"
Why not see if it Esright chair for you!!
Features
Heat, Massage, and Vibration
Included safety measures
Remote controlled recline
Dimensions and Weight: 33.1" (L) x 35.8" (W) x 43.2" (H), 92.61 lbs
Back Height: 28.7"
Seat Dimensions: 18.9" (W) x 22.1" (D)