The Empress Compressor just might be the choice guitar compressor in terms of sound quality. It's designed with a mind toward complete tone control, and the array of onboard shaping options reflects that. This does mean the pedal can take a bit longer to learn how to use, especially if you're used to more streamlined compression stompboxes. But it also gives you the power to tweak your tone in ways you might not have realized were possible outside a recording studio.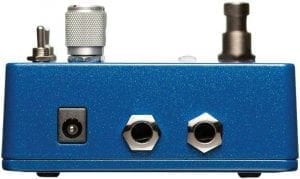 This is what blew us away:
This pedal's transparency is especially impressive. While you can get it to add new colors to your sound by adjusting the controls, it also allows you natural signal sound to come through—just a bit cleaner and more even than it would be without the pedal. The all-analog signal path maintains the integrity of your tone, and there's a true bypass to keep your signal unaffected when the pedal's not in use.
Empress is renowned for the quality of their effects.
They. Deserve. It.
Every pedal is hand-assembled by their small, dedicated staff—go to their website, and you can learn the name of everyone involved in building your device. Every little component in each pedal is crafted and placed with care, giving them an exceptional consistency across devices.
Specifications:
Power: 9-18V DC only (no battery option)
Weight: 1.25 pounds
Dimensions: 2.5"H X 6"W X 5.2"D
Compression ratios: 2:1, 4:1, 10:1
Other controls: Input, Attack, Release, Mix, Output