Dubbed the "Cadillac of electric fryers," the Elite Platinum EG-6203 Electric Skillet is sturdy, well made, and worth the price. Its unique M-shaped heating element embedded into the bottom the whole length of the pan creates an even heating surface with no hot or cold spots. Users love that ingredients cooking on the skillet's outer portion don't burn while ingredients in the center of the skillet don't end up undercooked.
Get this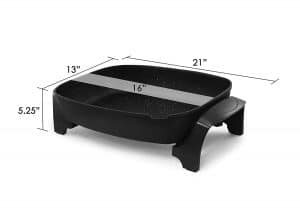 The Elite Platinum EG-6203 Electric Skillet heats up quickly with easily controlled and non-fluctuating temperature. Although the thermostat is accessible, it's close to the unit and can get hot when the skillet is on. Users report cooking a wide variety of dishes through different methods, including pancakes ?, hash browns, eggs (sunny-side up ?and scrambled), stir-fry, Polska Kielbasa, steak with grilled onions and peppers, ground steak with cheese ??; shrimp and sausage Cajun Jambalaya; Crawfish etouffee, shrimp Creole ?, Jamaican pork chops, sloppy joes, and boiled cauliflower.
This deep-dish pan is large with plenty of room to spread ingredients out for rapid heating. With 3.15"-high side walls, the Elite Platinum EG-6203 Electric Skillet is perfect for bubbling soups, handling "several packages of hamburger" ?, and frying up to 12 pieces of chicken ?. Perhaps too big for two-person meals, this big "bad boy" can accommodate large families (six to eight people) and one-pot ?recipes.
So big!
Because the skillet is "huge," it requires a much counter space for use. One user warns others to keep any objects away from it during use in order to prevent them from touching the metal and melting. Another person reports that his skillet got so hot that it cracked the counter and melted another nearby appliance! Also, since the Elite Platinum EG-6203 Electric Skillet is so large, cooking smaller recipes in it can be tricky. Ironically, this big model has a short cord.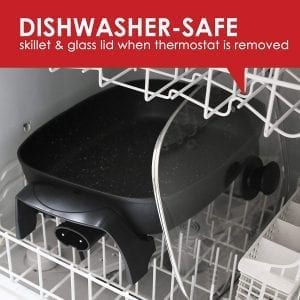 Although the pan has a raised honeycomb texture and marble coating nonstick surface, the manufacturer's manual advises "seasoning" or coating the inside with a thin layer of vegetable oil before the first use. The nonstick surface seems durable, as people report no scratches or flaking after months of regular use. The pan's spout is convenient for pouring and draining liquid. The lid fits well and covers flying grease during frying.
Doesn't this sound half-baked?
Users note frustrating contradictions for cleaning methods with the Elite Platinum EG-6203 Electric Skillet. The item's online description states it's "fully immersible" and dishwasher-safe with the temperature control removed; however, the manual and the label under the skillet say it's not "fully immersible." People describe the pan as easy to clean by hand washing in warm soapy water. Nonetheless, the fact that this model isn't truly submersible and dishwasher-safe is disappointing to some.
Nevertheless
We read reports of good customer service for the Elite Platinum EG-6203 Electric Skillet.
Features
Pan dimensions: 16" x 13" x 3.15"
Overall skillet dimensions: 22.5" x 13" x 3.75"
Weight: 9.88 pounds
Includes glass lid and wire rack
Capacity: eight Quarts
Cast aluminum base
Temperature range: 200°F to 400°F
Power: 1500 watts, 120V-60Hz
Limited one-year warranty