Do you love the outdoors and find yourself constantly going on adventures?
If yes, you must be familiar with the dire need of warm water on these trips. This Eccotemp portable outdoor water heater will be a great addition to your list of must-haves the next time you decide to head out into the wild.
There are so many good things about this handy little product.
First of all, it offers a pretty decent flow-rate of up to 2.65 GPM. That's perfect for running two or three low-flow water outlets simultaneously. It can't get any better at this price, too!
Note: The Eccotemp L10 Portable Outdoor Tankless Water Heater is powered by propane and ignited using two D batteries.
Moreover, it is incredibly easy and simple to set up and comes with all the necessary attachments. It's also designed to be lightweight enough to carry around with you anywhere you go. With this portable model, you won't have to waste your energy trying to drag a heavy-weight water heater to fulfill your hot water needs out in the open.
More to love about this product…
This useful water heater also comes with all the essentials you need to make it work like a charm. When you purchase this product, you also get a CSA-approved gas regulator and a hose to be used on a 20-pound grill style tank with it.
The gas regulator is there to keep you safe from any potential hazards, so it's a great freebie to have. It also comes with a stainless steel rain cap, a garden hose adaptor, and other essential installation accessories.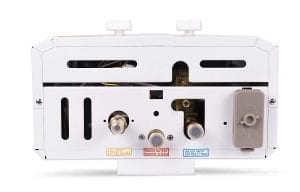 It is designed to be portable and easy to carry around and use. Lightweight and durable, this heater runs on two D batteries for flame ignition and you can hook it up to a propane source anywhere you want.
Another great thing about this heater is it's designed with safety in mind. It comes with an automatic shutoff timer, which turns the heater off after 20 minutes. This not only helps keep you safe from getting burned but also prevents any wastage of water in case you forget to turn it off.
This unit also features manual temperature controls with a range of 80-150F, so you can set it just the way you like. You can also adjust the flow-rate to set the right temperature. A low flow-rate will give you scalding hot water, and as you increase the flow, the temperature will automatically decrease.
Now, let's talk about the installation.
This water heater is generally pretty easy to set up. It comes with a detailed instruction manual and all the necessary attachments/accessories to help you out.
A word of caution…
This water heater is known for sometimes being irregular in its water temperature. This means you risk getting burned by scalding hot water unexpectedly, or maybe even unwanted, cold water at times.
Plus, some customers say they find the product and its parts cheap and low-quality. Moreover, Eccotemp's customer service doesn't have a good reputation either, so if guaranteed quality is important to you, you might want to consider other options.
The good thing is, this product doesn't cost much at all. In fact, the capacity and features it offers are amazing compared to its price.
It's really not a bad buy for something you'd want to use only during your outdoor trips and adventures. Keep in mind, however, this heater is not supposed to be installed permanently outdoors. It is meant to be portable, so you should not expect much good out of any other kind of usage.
Features:
CSA regulator for use with 20-pound grill propane tank
Includes stainless steel rain cap
Garden hose adapter included
Outdoor installation only
2 D battery ignition
20-minute automatic safety shutoff timer