This is a more affordable version of the Slash Cry Baby that will be reviewed later on the list. It's a very similar effect, but at almost half the price, it's a better option for the player on a budget who doesn't want to pay extra for looks or added features.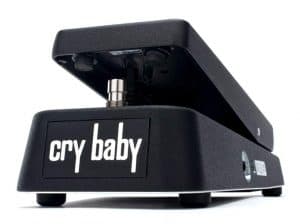 The original Cry Baby wah dates back to the mid-'60s and was a revolutionary effect when it hit the scene. This pedal isn't designed to replicate that classic sound but instead to put a modern twist on it, bringing more articulation to the wah overall. The high end especially has more clarity than from the vintage Cry Baby, and it's better-suited to more aggressive styles without losing the expressive feel you'd expect from the pedal.
Build-wise, we've got no complaints.
The housing is die-cast metal and the pots are tested to go one million cycles without failure—in other words, it's not going to go out on you mid-gig.
The Cry Baby has a streamlined construction. There are no knobs or switches. How you step on the pedal changes how the effect sounds—you'll get more treble when you step on the toe, and more bass when you step on the heel—and that can take some getting used to. Players who like to tweak their tone might be disappointed by the lack of controls, but for many others the lack of fiddling makes it a lot easier to use.
Features:
Pots: Hot Potz, 100K ohm
Power: 9V battery or AC adapter (not included, get it here)
Connections: ¼" input and output (get cables)