Here's a nifty little option from Donner that scores high marks for value.
It's one of the top delay pedals you can get at such a great price. The design also makes excellent use of very little space, cramming seven modes of operation into a mini-sized pedal that'll fit into any setup.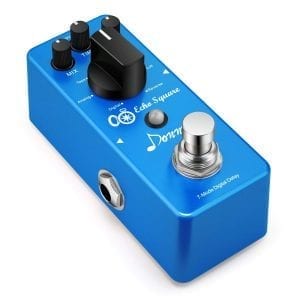 Most pedals in this price range are relatively limited in their sound and setting options, and that's where the Donner Echo Square really stood out to us.
Each of the seven delay modes is distinctive, and gives you some less common options, like Mod and Lofi, that are hard to find. Once you've picked the mode you want to play it, you can further tweak it using the mix, time, and feedback knobs.
The only disadvantage we found with the controls was that the knobs don't lock into place, making it a bit more difficult to find your desired settings again if you change them.
There are other small things that you'll notice you're missing compared to more expensive delay pedals. The only power option is AC, for example, whereas many larger pedals also give you the option of running on battery.
These small quibbles aside, however, this is a powerful pedal to add to your arsenal—especially considering the price.
Features:
Dimensions: 3.9" X 2.4" X 2.4"
Delay modes: Digital, Analog, Tape, Mod, Sweep, Lofi, Reverse
Control knobs: Mix, Time, Feedback
Power: 9V Adapter (not included)
Seven different modes of delay, including some harder to find choices
Durable aluminum casing