A great option for the kids, this dart board from Doinkit Darts features all the fun of darts, with added safety.
The kit comes with a 16-inch dart board, a set of six magnetic darts (three of each color). The board has a hook allowing you to mount it anywhere in the house and is designed to match the specifications of your standard competition dart board.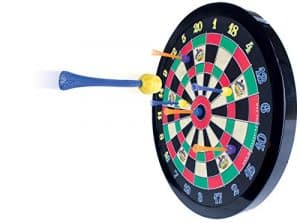 It even has fake cracks to simulate the look and feel of an everyday run-of-the-mill board. In comparison to other models, this board is lightweight. The darts are also light and easy to throw. They're small pieces of plastic with a magnetic head.
The tails on the darts are flexible and can contract/expand at will for easy storage.
But, we must stress…
This is a great option for kids, but don't expect competition standard results!
Specifications
Six magnetic darts
16-inch dart board
2 x 15.8 x 1.5 inches
1 pound