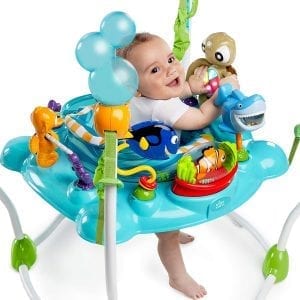 Are you a Disney fan? If so, this jumper might be the right choice for you and your baby. It's designed to be highly stimulating and provide hours of fun.
With over 13 different toys and activities to choose from, this jumper will keep your baby entertained for a long time. The height is adjustable, so you can use it as your baby grows. The rotating seat on this jumper allows your baby to access all the various toys by simply swiveling around.
Just some of the toys featured on this jumper are the Nemo rollerball and the Squirt piano, and additional toys can also easily be added because of the link loop featured on the jumper.
Now get this:
This jumper is designed to provide support and development for your baby, and that's why it features a high back seat and improved buckles. It's very simple to assemble and disassemble following the very clear instruction manual.
There are a few downsides to this jumper, though. It's very bulky and wide, and our research showed that it can't fit through standard doorways. That means it'll have to be disassembled if you want to move it. Also, many users report that some toys easily snap off, but the product is backed up by a warranty, so it isn't a real problem for most people.
Features:
Dimensions: 30.5 x 34.1 x 24.5 inches
Weight: 17.35 pounds
Weight limitation: 25 pounds
360-degree rotating seat
Height adjustment
13+ toys and activities
Nemo rollerball
Squirt piano
Additional toys can be added via link loop
Improved buckles
High back seat
Easy to clean
Simple to assemble and disassemble
Powered by 6 AA batteries (not included)