This is an awesome iteration of a tried and true toy.
Marble runs are an awesome, creative way to build spatial reasoning. They are an awesome way to develop those motor skills and to keep a kids mind active.
The ideas behind this product are an awesome way to demonstrate concepts in physics.
At the time marble runs are a ton of fun.
Why do we love this one in particular?
This model by Marbleworks is fantastic for a few reasons.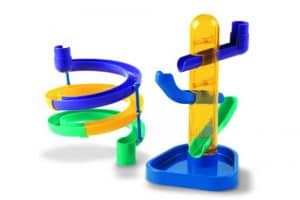 First, it has a much longer run time than the average marble run. Building it's only half the fun. They'll be spending more time enjoying their hard work as the balls fall along their extra long path.
This one also launches six marbles at once, which adds a great layer of fun and challenge in constructing the track. It also means creates a lot of room for inventive game creation with friends. Get your bets in for whose marble will make it down first?
We also found this product to be very durable. All the pieces are made out of a very hard plastic called high impact polystyrene that would be hard to break even if you tried.
This marble run includes a starter set of pieces, crank, and wild ride accessories set. You'll also find marbles designed exclusively for marble runs included.
Additional pieces for mega-runs can be bought here.
Which is one reason we love this toy if you're looking for something they'll play with for a long time. There are endless possibilities of ways to combine these pieces. And even if you do get tired of how this set fits together, you can always buy another one for even more compounded longevity.
Even though it's tough...
You'll probably want to know about the warranty.
As long as the product hasn't been put through any misuse, DiscoveryToys will replace the part or unit no questions asked. That is a great feature for any toy.
Features
Starter set
Crank
Wild ride accessories
Extra long track runs
Good warranty conditions