Dinair's Airbrush Starter Kit is a great choice for those who like experimenting with different shades. Its single action airbrush is precise and the compressor works well.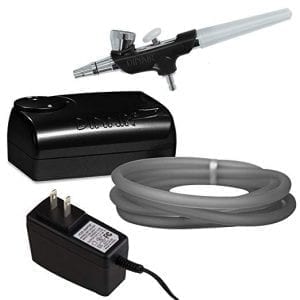 But that's not why we loved this product.
This kit comes with 15 different shades of foundation, all of which are lightweight, long lasting and water resistant. You also get 25 additional shades, which can all be used as highlighters, blushes, eyeshadows, and even eyebrow makeup.
To make it even better,
you can always mix some of them up to get new shades. Thanks to the special airbrush cleaner, you'll have no trouble keeping the kit spotless.
So why isn't it ranked as the best airbrush makeup kit?
Sadly,
The compressor in this kit is pretty basic. It doesn't even have pressure settings. Also, with this airbrush, applying makeup and cleaning up can take a while.
Features
Single action airbrush
Compressor
15 shades of foundation
25 additional shades
Moisturizer
6-foot airbrush hose
Airbrush cleaner
AC adapter