The DHS HURRICANE-I is ideal for the intermediate player who likes to have control. It's made of G555 high elastic rubber and is specifically designed for backhand use. It's made with a network molecule structure that combines a new cementing agent with chemical technology and high elastic sponge. The rubbers have and black pimples--great to give you more power. It also makes the rubbers stronger.
The Hurricane blade is made from a natural wood allowing your entire paddle to keep good inner balance. It makes for easy control and provides an excellent level of power.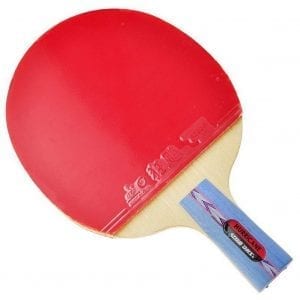 Finally, the perfect blend!
Although the penhold grip can take getting used to.
It comes with a Landson wrist support which will be the envy of your friends.It also includes a racket cover which offers extra protection and two balls. It all arrives in a gift box, so could be ideal for birthdays, Christmas, or other special occasions.
This product is a true masterpiece, and our experts had a field day testing it out. One thing we have to mention from our testing is this: the more experienced table tennis players among us were surprised by the amount of help the DHS Hurricane provides to spin. Aggressive shots of that type are greatly enhanced by its build, and we strongly recommend it for competitors featuring that play style.
On that note...
It's one of our most expensive products on review. There aren't a lot of reviews available on Amazon, which is why we had it tested ourselves, but the reviews that are present are pretty positive. Perhaps there's a reason China is number 1 in ping pong and we just haven't found the secret yet (this could be it!).
Main Features
Racket from the established DHS Hurricane series.
Features a Landson wrist support.
Built for the competitive medium, with a great enhancement to spin.
Ships with a cover and two balls in a gift box.