DeWalt makes plenty of tools for the pros as well as ones geared toward average Joes. The DWS780 miter saw falls more into the contractor side of things, but still, a saw homeowners should consider when build quality and performance are high on their list.
The DWS780 is comparable to the 12-inch Bosch in several areas although the DeWalt is arguably a bit sturdier. You'll get precision-machine castings and fences to go along with a stainless steel detent plate. The bevel system is machined as well, and while it slides and pivots like our top choice, you'll need to account of clearance in the back this time around.
Between the build quality and its 56-pound weight, this saw should hold up for years of use on the job site. It's easy to use, but the handle isn't as comfortable as others. It's a standard hard plastic handle with a trigger set to one side – it's not necessarily friendly for lefties.
Back to that Detent plate…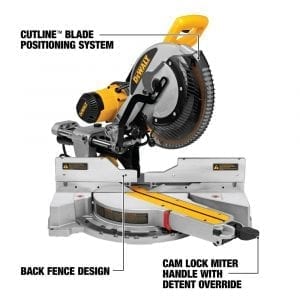 One feature we really dig on this saw is the cam lock system and the industrial style detent plate. The grooves for the stops are nice, and the detent override is better than most. As it's a double bevel saw, you can go from 0 to 49-degrees with five positive spots left or right. The miter can go 60-degrees to the left or 50 to the right with 10 positive stops.
The company also took a different approach to their back fence. They are tall and can handle nested crown at 7.5-inches or base molding measuring 6-3/4" vertically. The design of the fence allows you to tackle a 2 x 16 at 90-degrees as well or a 2 x 12 on a 45-degree angle. If that doesn't impress you, maybe the XPS crosscut system may do the trick.
Lasers are popular and a quick and easy way to ensure an accurate cut. Well, DeWalt's XPS system replaces the laser with an LED light which uses a shadow instead of a red line. This takes calibration out of the equation – something that can be a massive pain during blade changes.
This saw has enough power to saw through lumber with ease thanks to a 15 amp motor capable of hitting 3,800 RPM. Some consumers reported it was a little "jumpy" when you hit the trigger due to the torque, so keep that in mind if you're new to this type of tool. It does have an electric brake however which kills the blade within a few seconds of releasing the trigger.
While you won't get sliding extensions or an arm filled with bearings on the DeWalt DWS780, it performs as advertised and is as reliable as they come. It's the type of tool that will outlive other saws by years and sports the company's 3-year limited warranty to boot. It comes with a 12-inch carbide tipped blade, a blade wrench, user manual, and a dust bag. Unfortunately, there is no bundle with a stand, but we have that covered.
If you need an excellent miter saw stand, you'll want to check out the DeWalt DWX726. It's a tube-based solution with pneumatic assist, adjustable rails, and a 300-pound weight limit. While that may be overkill for some, there are more straightforward options like the BORA Portamate with its budget-friendly price tag and a 500-pound capacity.
Tech specs from chart for photos
Features
15 amp 3,800 RPM motor
Precision-machined castings
XPS alignment system
Advanced dust collection system
Oversized bevel scale