Our research revealed that the DEWALT DGL523 Lighted Tool Backpack Bag is a flexible carrying case that offers you plenty of storage. We found this tool backpack had plenty of storage capacity with 57 total pockets. There is virtually a space for every tool you need to carry and store.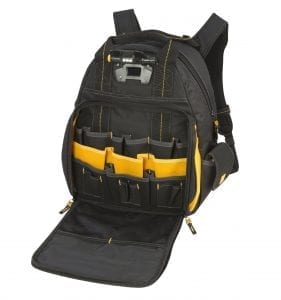 The DEWALT DGL523 Lighted Tool Backpack Bag provides easy access to tools you use most frequently as it offers nine outside pockets that make it easier than ever to reach what you need when you need it.
We were pleased to see that the construction of this tool backpack is strong, and it offers padding in the handle as well as the straps, making it comfortable to carry for long periods of time. It also has an affordable price tag, which we like and know you will too.
Best of all…
The DEWALT DGL523 Lighted Tool Backpack Bag comes with an LED light that makes it possible to see in dark work areas or inside the bag. You won't have to fumble with a flashlight to see as it is mounted right on the top of the backpack for bright illumination. The light does operate off of batteries which are not included, but it is a nominal investment into one of the best tool backpacks on the market.
Features
39 lumens LED Light
48 internal pockets
Nine outside pockets
Padded carrying handles
Base feet
Adjustable shoulder straps
Padded carrying straps
Reinforced bottom