Delta is a brand famous for making high-quality products. When looking for a new kitchen faucet, many people select this brand because of the flexibility and durability of its products. And this faucet is a great example.
When it comes to installation, this faucet features the Duramount mounting system, which makes it easy to install, even if you don't have any experience. It can be installed in sinks with both one and three holes. And with the variety of finishes available, you can be sure you can tailor the faucet to visually fit your kitchen.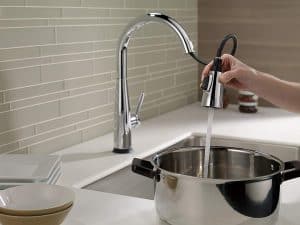 Another one of the many features of the Delta Essa is its Touch2O technology. This enables you to turn the faucet on and off by simply touching it, which increases its functionality. The only downside is this function sometimes doesn't work when touching the faucet with rubber gloves.
Of course, you can also turn the faucet on and off by using the handle. Some users have reported the handle can sometimes be stiff. Another potential downside to the handle is that hot water is located forward, which is not the usual direction and can be confusing for those used to hot water being located to the back.
This faucet also features a handy hose, and with the MagnaTite docking technology, the faucet head will easily spring back and lock into place when you're done using it. Diamond Seal technology, which is a popular Delta feature, makes sure there are no drips and that your faucet lasts for a long time.
The Delta Essa also has a LED light which indicates the temperature of the water, so you can easily see how hot it is without touching the stream. When it comes to cleaning the faucet, you should know it features Touch-Clean spray holes, which means you can clean residue from the faucet quickly using just your fingers.
This faucet requires AA batteries to work, and six of these are included in the package. The battery life is approximately two years, but if you don't want to worry about that, you can always order an additional A/C adapter.
Features:
Dimensions: 1.2 x 11 x 15.2 inches
Flow rate: 1.8 GPM
Material: Bronze
1 or 3-hole installation
Duramount mounting system
Available in Chrome, Arctic Stainless, Matte Black, and Venetian Bronze finishes
Delta Touch2O Technology
MagnaTite Docking
Diamond Seal Technology
TempSense Technology
Faucet and Finish Lifetime Limited Warranty
Touch-Clean spray holes
Includes 6 AA batteries
Optional A/C adapter available
Escutcheon included