Analog delay pedals are often more expensive than their digital equivalents. If you want that distinctive analog delay sound, though, there's just no alternative.
No doubt about it…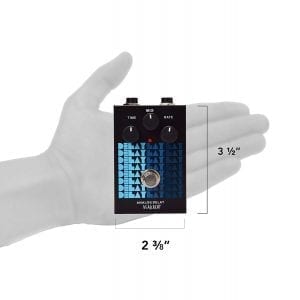 The Delay Lay Lay by Deadbeat Sound is one of the most affordable ways to add an analog delay sound to your arsenal.
Unlike other options on the list, the Delay Lay Lay doesn't boast a plethora of modes and styles.
The effect can be best described as a tape delay, giving your lines a lush echo. You can adjust the length of the delay between 140 and 360ms. The controls are smooth and sensitive and let you make some very minor adjustments.
Since it can go into infinite repeats, you can drive it to the over-saturation point that lets you build up a powerful feedback loop.
When it comes to the versatility of the Delay Lay Lay, that's a bit of a tricky question. It only offers one effect, but that effect is done exceptionally well and you get a lot of control over the intricacies of the delay's timing and intensity.
The best advice here is to give the pedal a listen and let your ears make the decision.
Features:
Dimensions: 7" X 4.6" X 4.6"
Control knobs: Mix, Time, Rate
Delay: 140-360ms
Power: 9V DC adapter (included)
Self-oscillation capabilities