Cuisinart is a name most consumers know, and it's only natural they have an induction cooker. The ICT-60 is their entry onto our list, and this double induction cooktop can hang with the best of them when it comes to cooking food efficiently.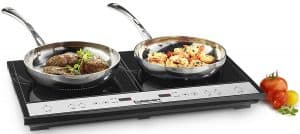 This dual cooktop is large as its 26.8-inches long and 17-inches wide, but only 14 pounds. It has a simple design with a clean black cooktop and silver control panel with buttons for each side. While there are an equal amount of buttons on each side, one zone is larger than the other as you can clearly see by the outline on the cooktop.
The left side of the ICT-60 is for higher heat and larger pots with 8 heat settings which range from Low to High. The right side goes from 1 to 5 which represent Low to Medium on the temperature scale. We had to dig deep for the tech specs, but the left burner clocks in at 200 to 1200W while the right burner is listed at 200 to 600W according to the product manual.
Now that we've told you the differences for each zone, we're going to talk about the similarities. Both sides have a 150-minute timer and the fantastic pot-off feature which kills the heat 30 seconds after you remove a pan. It also has overheating protection, but there are no other standout features to speak of on the Cuisinart ICT-60.
This cooktop is similar to the Copper Chef single burner unit as both get the job done, but offer the bare minimum of features. That's not necessarily a bad thing if you want something easy to cook on, and in this case, have a good sized countertop at your disposal. We like the price tag, and we love the fact you get a lengthy 3-year warranty on the ICT-60 as well.
Features
Dual induction burner
1200 watts
Pan-off feature