This is an excellently priced cue that comes with several extras. It functions on par with some of the other cues from this list and looks great doing it!
There were some manufacturing concerns among other reviewers.
Let's take a look at this cue.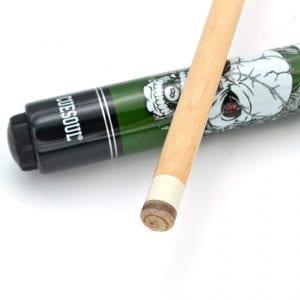 You may know this manufacturer from their dart boards, however they also produce excellent cues.
It's a slightly shorter than average cue for a two-piece. In testing we found that we had a lot of control and accuracy with our shots.
We still didn't have much control over english, however due to this cues 13 mm tip. We were not able to identify this tip, however it was somewhat hard in testing.
This cue can be purchased in 20 and 21 ounce variations.
The joint is stainless steel and the cue is made from North Canadian hard maple.
The cue does look nice, however we would have prefered to see inlays rather than decals. The grip is genuine irish linen.
You can select from five different colors.
What about the extras?
This cue comes with several extras that make it a worthwhile purchase. It includes a carrying case, joint protectors, and a cleaning towel.
But, buy with caution.
There have been several reports of poorly manufactured units. Some of these cues may ship a better quality than others.
Further, Cuesoul doesn't provide warranties for their cues. If you do end up with a poorly constructed cue, you won't have many protections.
Features
Towel
Case
Joint protectors
Skull decals