Craftsman tools have always been an affordable option for consumers that need a robust set of wrenches. While we don't have too much experience with corded tools, the Craftsman 21237 is an interesting alternative if you want a sliding saw, but don't need dual bevel capabilities.
Typically when you buy a sliding compound miter saws, it bevels both ways. The style dictates a higher price, so manufacturers tend to cover all the basics. The 21237 is an exception this 10-inch saw only bevels to the left with three stops at 0, 33.9, and 45-degrees. As it's a sliding miter saw, you can still deal with 12-inch wide boards, however, and the miter capacity is 45-degrees on the left and right with positive spots at 0, 12, 22.5, 31.6, and 45-degrees.
Is it smooth?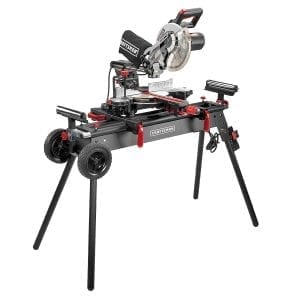 Well, that depends on your definition of smooth. It moves freely and will give you accurate cuts, but won't feel the same as a high-end compound slider from Delta or Makita. The design also means you'll need room for clearance in the back although it's relatively light at 39 pounds. We also like the sliding extensions even if the fences are fixed.
The Craftsman 21237 sports a 15 amp motor that's on the higher end of the speed range at 4,800 RPM. You'll get a wide trigger on the handle which has two built-in switches but isn't the most comfortable we've come across. The blade guard feels a bit cheap as well, and the build quality is about what you'd expect for the price. That's not necessarily a negative; just don't expect this to be the Rolls Royce of the saw world.
On that note…
It's obvious that you'll have to deal with some thin plastic on the Craftsman 21237. The one area you'll want to be careful with is the detent lock and knob which protrudes. The marker is flimsy, and that detent plate isn't a plate at all, but a sticker. It may seem odd, but it shouldn't present a problem unless you use odd angles – all the stops are preset. That said, the warranty is only 1-year so check the build quality out of the box.
While Craftsman may have cut a few corners with this saw, they did include a built-in laser that pulls power from the wall, not tiny batteries. It also comes with a 60 tooth carbide tipped blade, owner's guide, stop block, clamps, dust bag, blade wrench, quick release vise, and extensions. Despite what the photos show, it does not come with a stand although this one can handle the 21237 and other saws as well.
Features
Dual slide bearing rail system
15 amp motor
60 tooth carbide blade
39 pounds