If you've flipped on a television in the past few years, there's a strong chance you've heard of Copper Chef and their magical cookware. They also make cookers like the mighty Copper Chef induction cooktop, which is small but mighty.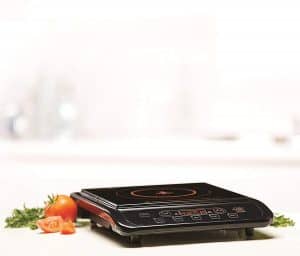 Is it a digital kitchen scale or a cooktop? That may be the first question which comes to mind when you set eyes on this induction cooker. It has a clean design, even if it's a little retro and the control panel is sealed against grease and grime. There are a few crevices you may have to deal with if things get sticky, but consumers felt this one was easy to clean for the most part.
The surface has a large 10-inch cooking area which is compatible with 8 to 12-inch pans. It's not as strong as other models although it produces up to 1300 watts of power with a range of 100 to 500 degrees. There are 5 cooking preset key as well with warm, sear, low, medium and high. Want total control? You almost get it with Copper Chef's cooker as you can adjust the temperature in 10-degree increments… not 50 degrees at a time.
We're big fans of Copper Chef cookware, and the company delivered on their first induction cooktop as well. The only knock on this unit is the fact it's a bit basic compared to other models in this class and its short warranty. You'll only get 60 days with this one although we didn't find many customer complaints in regards to its performance.
Features
1300 watts
5 presets
Auto shut-off