The Coleman Airbed Cot with Side Table is popular among campers and indoor users. "Extremely comfy," this model earned rave reviews from large (e.g., 6'3", 200 pounds) people, senior citizens, and recovering back surgery patients. They report waking up refreshed with little to no back pain. One consumer who enjoyed sleeping on it for three consecutive nights highly recommends this model to anyone at any age.
This is something different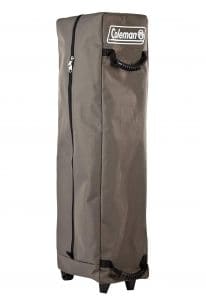 The Coleman Airbed Cot with Side Table sits on a strong steel frame. A non-removable fabric cover holds the mattress in place on the frame. Just zip the mattress into the sack, and you're ready to go–you won't have to sleep with your skin against vinyl.
The frame is doesn't look sturdy but it is! For example, a 250-pound father and his son slept on it every night for a week without any issues. The frame has a support bar that runs lengthwise down the middle; some people aren't bothered by it while others are. The mattress is deep and firm enough to make the bar marginally noticeable to some. To others, the mattress is too shallow to provide enough cushioning.
But wait, there's more
The frame of the Coleman Airbed Cot with Side Table sits high enough off the ground for ample storage space underneath. The side table is sturdy, removable, and sizeable enough to a cell phone and wallet or book. The frame also has a drink holder pocket and plastic feet that supposedly won't scratch your floor.
What's that noise?
As people move in their sleep, the mattress rubs against the frame, emitting loud "friction sounds." Many users complain about this issue, but innovative folks offer this effective suggestion: cover the places on the frame where mattress and metal touch with moleskin.
Also,
Although easy to set up, the frame's legs don't lock into place. Many complain that the mattress starts to fold up when moved around.
One "not small" person slept on the Coleman Airbed Cot with Side Table every night for four months and was impressed by not only its comfort but also its durability. "It took everything I threw at it" and lasted. Other people used it on a four-day camping trip without any leaking. An indoor owner has a guest slept on it for three weeks and needed re-inflate it once or twice.
Yet?
We also read reports of the Coleman Airbed Cot with Side Table losing a lot of air quickly overnight; two separate owners describe the mattress deflating all the way on their first nights…and finding themselves on the floor in the morning. The mattress' stitching seems to be very stressed, especially at the corners, as it inflates.
Scratching our heads
We found little feedback on the manufacturer's customer service–just three positive and one negative review–and replacements under warranty.
The included battery-operated pump inflates and deflates the mattress easily and quickly. Unfortunately, the nozzle doesn't stay in the mattress' opening during pumping; therefore, you have to hold and push in the nozzle the whole time.
How does this sound?
When folded and stored in its carrying bag, the mattress is about the same size or slightly larger than a folding camping chair. It has handles and wheels for transporting but is heavy.
The Coleman Airbed Cot with Side Table's queen size model isn't the actual size of a normal queen mattress but it's not far off either.
To see a detailed review of this model by The Sleep Judge, watch this video.
Features
Includes pump and bag
Dimensions: 74" x 40" x 23.5" (twin); 78" x 59" x 22" (queen)
Maximum weight support: 300 pounds (twin); 600 pounds (queen)
One-year limited warranty