Whereas our top choice is built for beginners that want a solid set of clubs, the F-Max series is for golfers looking to start off with the best. Cobra spared no expense on this set, and while they may give you sticker shock, they will definitely up your game.
The F-Max set contains a total of 12 clubs which may be surprising considering the cost. While there are plenty of beginner golf club sets that will provide you with a full 14 for far less coin, they won't have the same build quality, and fine features Cobra applied to the F-Max series.
Before you get too excited…
You'll want to know these clubs are only for right-handed golfers – Cobra doesn't make them for lefties. They are also fixed weight with a center of gravity towards the back which may not be for everyone but will help you hit the ball straighter and even makes those bad shots look a bit better.
Handedness aside, the driver is a beast at 460cc with a 10.5-degree loft. It's a D1 club measuring 45.5-inches with a forged titanium 6-5 face and an offset hosel which produces higher launch. The crown is slick as well as it allows you to align the club head with ease; it's a very accurate driver in the right hands. The irons have the same draw weighting as the driver and sport a club head with a low profile. You can see them in action below…
They have a deep undercut as well which gives you more speed, even when you hit the ball off center. The lower irons 4 through 7 feature 17-4 stainless steel to help those long fairway shots gain some length, but the 8-iron, 9-iron, and wedges all use 431 stainless. This gives the clubs more "feel" which in turn gives you more precision on the approach.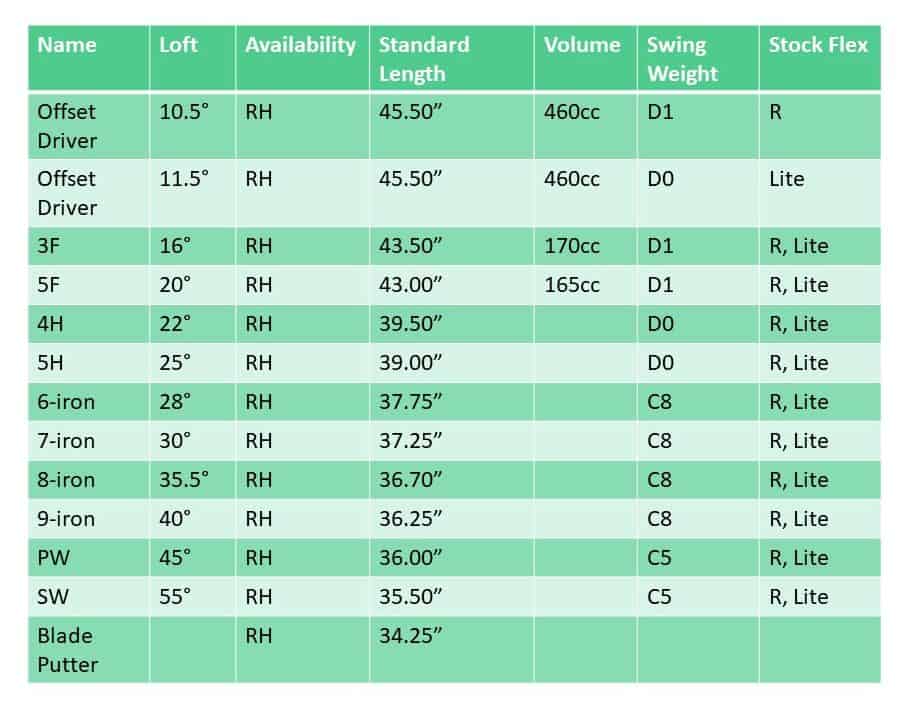 The wedges in this golf set are just as high-tech as the rest of the clubs and will definitely give you more control around the greens due to their design. They are in the C9 class when it comes to swing weight and feel great in the hand. The putter is only average in our opinion, however, and while it will get the job done, you may want to upgrade. It's a sturdy blade style putter, but if you want something unique, give the TaylorMade Spider series a look.
These clubs look great, and much thought was put into their design. They all have midsize Cobra Max Lamkin Rel grips, and the irons will last for years to come considering they're nickel chrome plated. Unfortunately, we weren't able to dig up too many details on the bag. It's a large cart bag with more pockets than most, but that's all we know aside from the fact it isn't leather.
The Cobra F-Max club set comes in two configurations with a regular set and one geared towards seniors. Both have lightweight graphite shafts, but the senior set's driver has a loft of 11.5-degrees and a D0 weight while the regular drivers is 10.5-degrees and in the D1 category.  These clubs come with a 2-year warranty, head covers, and are available for ladies as well but only if you're right-handed.
Features
Forged titanium driver
Offset hosel design
Back/Heel weight
Deep undercut irons