Clarks is a reputable company with over a century of experience in the shoemaking business. Their products feature a range of exclusive components, and the Tilden Walk Oxford is a great example of the kind of quality Clarks brings to the table.
These leather shoes are specifically designed for formal occasions when you need to look smart and professional. They look like typical oxford shoes, but provide much more support. Lighter than regular oxfords, these shoes remain comfortable even when being worn all day.
With the synthetic sole and excellent padding, these shoes give your foot the support it needs. And if you find the insoles to be lacking, you can always get replacement insoles like these Timberland PRO Anti-Fatigue Insoles. Or if you're looking for something more budget-friendly, these Airplus Memory Foam Insoles might just be the right thing.
To make it even better: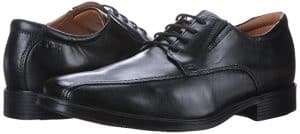 The Tilden Walk Oxford also feature a leather upper which helps the shoes provide breathability. This will come in handy for people who have issues with foot odor. And if you're struggling with unpleasant smells, you might also consider getting some high-quality socks like the Antibacteria Anti Odor Performance Dress Socks. They help with the problem while also complementing your professional wardrobe.
The finely ribbed outsole provides traction, which means these shoes are quite slip resistant. They're also somewhat waterproof – it's not recommended to wear them in a downpour, but they won't get wet in a light drizzle. The elastic side gore hugs your foot and makes for a snug fit.
However,
Some people find these shoes to be too tight at the ball and toe, and our research showed they don't stretch out after wearing them for a time. That means if you have a wider foot, these might not be the right choice for you. We've also found these shoes are a bit on the longer side, which bothers some customers.
All in all:
The Tilden Walk Oxfords are great shoes if you need something professional and comfortable. The price point is great for the quality, and we noticed most users love these shoes and wear them for years.
Features:
Leather
Made for formal or semi-formal occasions
Synthetic sole
Leather upper
Padding
Finely ribbed outsole
Slip-resistant
Elastic side gore