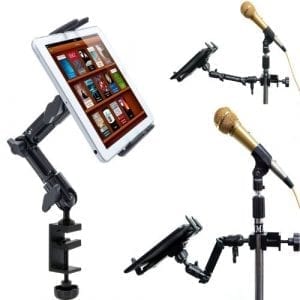 All of the gear drummers have to deal with makes a lot of things harder for them than it is for other musicians. Figuring out where to put music when they need it is one of these unexpectedly tricky things, especially for drum kit players, who have to position the music stand around multiple stands and cymbals.
Now that digital sheet music is an option, pole-mounted stand like this one from ChargerCity can be an excellent solution to this problem. It attaches directly to a cymbal or microphone stand and is fully-adjustable, bending and tilting to the perfect angle to both play and read in comfort. It'll hold any device with a screen between 7 and 12 inches, including pretty much any tablet and many phones, as well. Both the stand itself and the clamps on both ends are sturdy and stay in place once they're adjusted. It will work on tablets that are in cases, too, although it can be trickier to negotiate it into the holder if the case is especially thick.
As if that's not enough, having a tablet directly on the drum kit is useful for more than just reading music. It's an easy way to use tuner and metronome apps, and perfect for home recording sessions, putting mic and level controls in a digital mixer right at the player's fingertips. It can be made even more convenient by getting a pedal for hands-free tablet control, so the player can turn pages in the music without losing their groove.
This would make a great gift for players in all genres and at all experience levels, but it's especially ideal for gigging musicians. Jazz players who do a lot of jam sessions will appreciate it, too, since it's easy to find digital fake books to load up on the tablet. Another versatile and affordable choice that a drummer will really appreciate and get tons of use out of.
Features:
Build material: Aluminum alloy
Arm length: 6"-10"
Mount: C-Clamp (fits flat and curved surfaces)