Whereas the Fuego is built for consumers looking for a smaller gas grill, the Char-Griller 5050 Duo is geared towards folks that want to entertain. While it has a similar sized grilling area to our top options, it has two things those grills lack.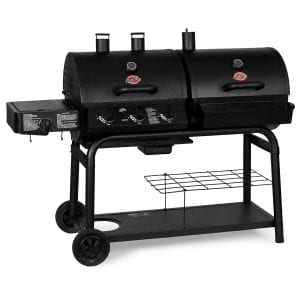 Char-Griller may have called this grill the Duo, but it's really a triple threat. The central area provides you with 438 square inches of cooking space and a warming rack. It's flanked by two additional cooking areas on each side however with a side burner and charcoal pit. Yup, you can grill with gas and charcoal at the same time while keeping a pot of chili or other ingredients warm on the side burner.
Due to the design of this grill, we're going to break it down into three sections and start with the main griller. It has porcelain coated cast iron grates and three stainless steel burners with a total rating of 40,800 BTU. The electronic ignition will kick things off in seconds, and the side burner has its own dial along with a cover you can flip down when not in use. It also has not one, but two smoke stacks.
On a side note…
Having porcelain coated cast iron grates is a major plus on any grill, and we love the fact you get them on both sides with the 5050 Duo. You still need to season the grill, however, and not just the grates. Check out this video of the Char-Griller being seasoned "the right way" before being put into action…
As for the charcoal side, it has the same sturdy grate system and a warming rack. You can adjust the grates to control the heat and cleanup is a breeze thanks to the lift-out grates and ash pan. We also like the grate lifter in case you need to add additional bricks after the fact. There are 580 square feet of cooking area, and it has a double bottom which improves efficiency as well. It has a single smoke stack, and both sides have built-in temperature gauges on the lids.
Now for a few negatives as no grill is perfect, including the Duo 5050. It's going to be heavier than most at 168 pounds, and while we dig the open storage and condiment basket, we aren't big fans of the car itself. It has an older tubed design with only two cheap wheels so moving it can be a pain compared to models with casters. If you treat it with care and keep it covered, you shouldn't have anything to worry about, but we would have liked to have a sturdier base on this beast.
Aside from the base, it's an excellent grill and provides significant bang for your buck given the side burner and the fact you're getting two grills for once price. The Duo comes with all the hookups you'll need to get started, and a user manual you'll be thankful for as there's a lot to deal with. It also has the company's outstanding 5-year warranty which covers defective parts along with any potential burn and rust-through damage.
Features
1,260 square inches total cooking area
Grill with gas and charcoal
12,000 BTU side burner
Condiment rack