Even with a price point of $500 bucks, you still have to consider all the extras you may need for your new grill. That can put you well over the tipping point, but it won't be an issue with the Char-Broil Classic 360. It's our budget-friendly pick, and one we think you'll be thrilled with if your funds are low.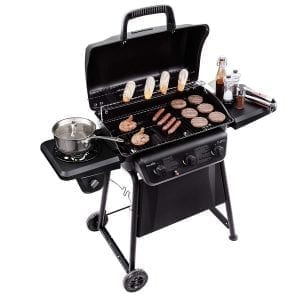 The Classic 360 is a basic grill with one flagship feature. Before we get to the high points, we're going to talk about the big drawback with this particular grill. It has a cheap tube frame with thin sheet metal and thick plastic wheels. While it's a downer, it shouldn't be a deal breaker if you simply keep the 360 covered and cleaned.
The rest of the grill should hold up well as it has a porcelain-coated steel lid and firebox. While you will only get 360 square inches of grilling space and wire grates, they're coated in porcelain. There are three evenly spaced stainless steel burners to go along with three dedicated flame tamers. There's a coated 170 swing rack up top for warming but no thermostat built into the lid oddly enough.
This grill has a table on one side for prep work or storage while the other side sports a dedicated side burner. This little unit can get up to 8,000 BTU and is a standout feature which makes up for that tube frame. When combined with the three main burners, you're getting over 38,000 BTU of heat for half the price of other gas grills.
Char-Broil may have cut a few corners with the 360, but it will grill a good burger or steak just like the rest of our picks. The user manual says you'll get a 5-year warranty on the burners, 2-years on the firebox and lid and a year on all other parts. As always, you'll want to snag a cover, and this one should do the trick.
Features
Three stainless steel burners
Piezo ignition
8,000 BTU side burner
Porcelain-coated lid and firebox