Callaway gained many fans in their Big Bertha days, and the brand has expanded considerably since then. While you can still score a Great Big Bertha driver, the Strata Ultimate set provides you with every club you'll need before hitting the links.
The Strata lineup comes in several different flavors, but we went with the 12 club set. The extra clubs add quite a bit of value and are ones you're more likely to use than not. First, we're going to start with the driver which is made from titanium with a massive sweet spot. It's 45-inches long with a 12-degree loft and a lie of 58-degrees. It's a D1 club as are the rest of the clubs aside from the sand wedge which is a D3.
The other woods…
In addition to the regular driver, you'll receive two fairway drivers with a 3-wood and 5-wood along with a couple of hybrid clubs. The 4H is 38.5-inches while the 5H is a hair shorter. Both have a similar lie, and all four of these clubs have a higher loft. You can check out the tech specs for the drivers and irons in the chart below.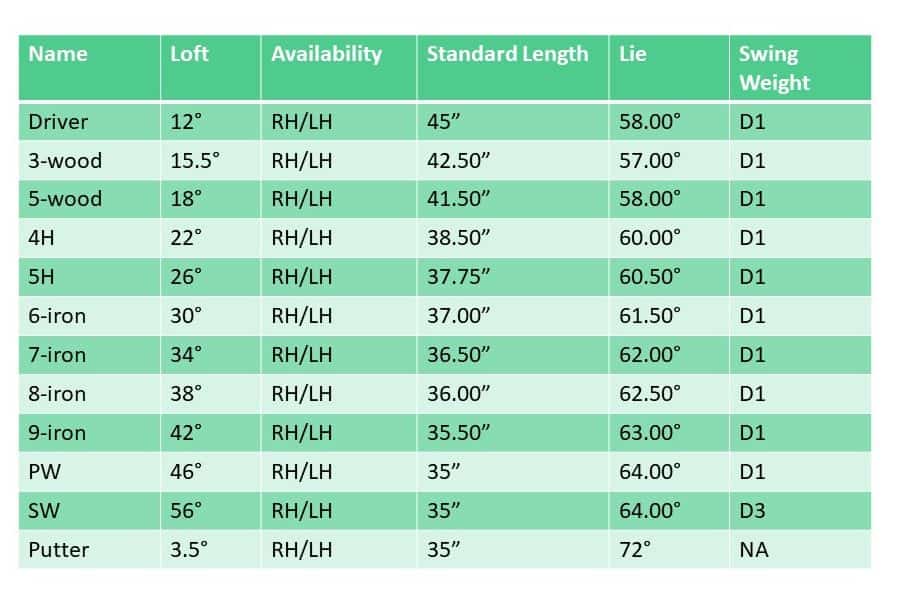 The hybrids clubs replace the traditional long iron in this bag, so if you want a 5-iron, you'll need to pick one up separately. While you probably won't need it, we recommend the Rogue X if you prefer to keep your clubs within the Callaway family.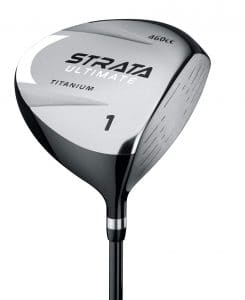 Outside of the main clubs, you'll also receive a pitching wedge, sand wedge, and a putter. The wedges have the same length and lie, but the pitching wedge is a 46-degree loft while the sand wedge clocks in at 56-degrees. The wedges and irons are stainless feature "high flight" tech which is quite forgiving, and the putter has a milled face for increased accuracy when it's time to send the ball to its home. It's the same length as the wedges, but with a 3.5-degree loft and 72-degree lie.
No golf set is complete without a bag, one requirement all our choices had to meet to make our list. The Callaway Strata Ultimate set comes with a sturdy bag that sports a built-in stand and enough pockets to hold all your gear – even a pair of shoes. You'll still need to pick up balls and tees, but there are five covers to protect your drivers and a padded back strap.
These clubs are available for both left and right-handed golfers and have a very reasonable price tag considering the brand and the fact you're getting 12 clubs. They are covered by a 2-year warranty against defects in workmanship but not against fits of rage so don't take it out on the clubs if you shank one into the tall grass.
Features
Large titanium driver
12 club set
High flight technology
Left and Right-handed models available