The Broil King PCG-10 Professional Portable Griddle rules ?! Users rave about this electric griddle and say it's worth the price. Although not a commercial griddle, its ample in size for big families and crowds. This tabletop griddle can cook eight pancakes ?at once ("churn out pancakes like an IHop") as well as "massive" amounts of eggs ?, hash browns, sausages, bacon ?, grilled cheese sandwiches ?, steak ?, hamburgers ?, chicken, and even steamed veggies with this melting dome.
And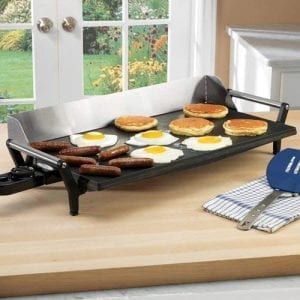 Another cool accessory that fits the Broil King PCG-10 Professional Portable Griddle is the four-piece set of Norpro Egg/Pancake Rings. It keeps pancakes, eggs, or any ingredients from running into each other.
The Broil King PCG-10 Professional Portable Griddle heats quickly and evenly. One owner didn't find hot and cold spots until after using it five years. The Broil King griddle is a bit warmer on the left side due to a bend in the heating element on that end. The griddle plate's surface is textured.
Meh…
What many consumers dislike it the removable stainless steel backsplash. While good in theory, the "flimsy" and "poorly fitting" backsplash in practice is difficult to attach and detach without scratching the cooking surface. People also wish the adjustable rear legs (which raise the griddle's back for draining grease into the front drip tray) were stronger and less likely to break.
Even though the Broil King griddle is immersible and dishwasher safe (with the temperature probe removed), many owners prefer wiping it clean. They find clean-up easy, want to protect the nonstick griddle's surface, and find it a bit large to fit into the dishwasher. For heavy grease, rinse off the griddle.
Four seems to the magic number for the Broil King griddle's lifespan in years. One customer said surface wore out around two years, but the appliance itself kept working.
So
If you don't want (or need) to spring for a commercial griddle, get the Broil King PCG-10 Professional Portable Griddle. In fact, it's UL Listed, meaning Underwriters Laboratories (UL) has tested it and determined it meets specific, defined requirements "based on UL's published and nationally recognized Standards for Safety."
Features
Cooking surface: 21" x 12"
Dimensions: 29" x 5 ½" x 12 ½"
Weight: 8.15 pounds
Limited two-year warranty
Made in USA ??