The design of this Boss clip-on is its best feature. It has a unique curved casing that's both attractive and compact. Not to mention it's built to withstand the abuses of daily use on the road. The Accu-pitch indicator gives you a clear red arrow showing which way you need to adjust your pitch, on a true color LCD screen that's overall more visible.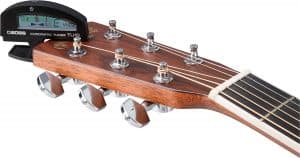 The simplicity of this tuner makes it very easy to use. While it doesn't offer as many modes or features as some of the pricier options, that also means there's nothing to set up before you can start using it. It's a reliable option that you can throw into the gig bag of any stringed instrument for instant, accurate performance every time.
Plain and simple.
While it might not be feature-rich, the TU10 does give you the option of calibrating to a different pitch center. It also has an auto-shutoff option, which saves you battery life. That's especially nice if you have a tendency to forget to turn your tuner off before putting it in your case.
Features:
Features BOSS quality giving you reliability in a clip-on tuner.
Improved LCD display reduced reflections
Flat tuning to 5 semitones
Stream mode
High durability design and build