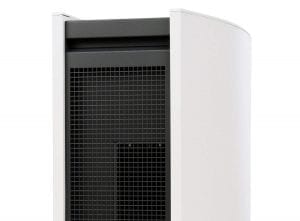 You can get pretty much everything in a smart form these days, and air purifiers are no different. The Blueair Classic 405 is Wi-Fi enabled and Alexa-compatible for voice control and easy smart home integration. This earns the Blueair Classic high marks for convenience even before we get into its other features.
In terms of performance, the most impressive thing about the Blueair Classic is its speed. It uses a clever technology that harnesses the power of static electricity to pull contaminants toward the filter, with a powerful fan that can completely circulate the air in a medium-sized room in about fifteen minutes. It uses a true HEPA filter so you can be confident you're not breathing in any mold or mold spores.
The design of the Blueair Classic is also more efficient. This is good for you in two ways. First, it makes it quieter—so quiet we could barely hear it on the lowest setting. It also means it uses less energy, adding less to your electricity bills.
Our only question with the Blueair Classic is whether it justifies its price. If you want an option that will integrate easily into your smart home, this is a solid choice, but you'll definitely pay a premium for the Wi-Fi connectivity, and you can get similar performance elsewhere for less.
Features:
11" X 20" X 23"
31 pounds
Coverage area up to 400 ft2
Filters: True HEPA
Filter Life: 6 months