Another hand-held sander option, this time from hardware specialists Black and Decker. A great addition to your home workshop, it features a 7-amp motor and dust collection bag for easy cleanup.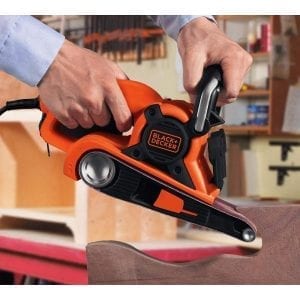 In testing, we found this to be a great sander for those looking to undertake small easy jobs around the house and for small pieces of stock. It has a handy small front roller, which allowed us to reach small corners with ease!
The sander comes with an easy release of the sandpaper grit, along with a retractable handle, with three positions to enhance your control over the sander.
It doesn't have a variable speed setting, which rules out its effectiveness for more hardcore sanding jobs. We found it relatively adequate for standard home jobs, like removing paint from the deck, removing top layers of wood, or giving the stock a basic finish.
Grab the manual, here.
Specifications Sheet
7 amp motor
6.5 pounds
15.2 x 6.3 x 6.3 inches
Dust collection bag
Easy release sandpaper grit