Birkenstock is the company to go with if you're looking for comfortable shoes. They have a reputation for making shoes that are high quality, and the Rosemead Clog is no exception. These shoes are extremely comfortable and have a plethora of features that give your feet the support they need, even when you spend the whole day in them.
Made from suede leather, these shoes are both stylish and durable. Some users find them to be a bit thick and clunky, so if you're looking for something elegant and lean, these aren't the right choice. But conversely, if you have a wide foot, these can be a godsend. The toe box is big, and the rounded toe design gives even wide feet enough room.
To make it even better: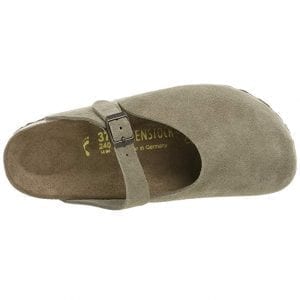 The slip-in design makes it easy to put the Rosemead Clog on, and the Mary-Jane strap allows you to adjust the shoe for a custom fit. The U-shaped cut and open style let you show off your feet or socks, but they also allow your feet to breathe better than any closed shoe ever could.
The synthetic sole on the Rosemead Clogs is high quality, and designed to be slip resistant. This means you can use these shoes even on wet terrain. The cork footbed and midsole ensure complete comfort, even for people with chronic foot issues.
However,
Our research showed that some people do find the footbed to be too hard. In that case, simply slip in some custom insoles that are tailed to your particular needs. For example, if you have flat feet, the Orthotic Insoles for Flat Feet are a great choice, or if you need something  shock absorbent, the Onemix Shock Absorption Insoles will be a perfect fit. When you get additional insoles, you can simply put them in and fully enjoy your Birkenstocks.
Now:
Let's take a look at some reviews left for these clogs. Cathryn says she's satisfied with the quality, especially with how wide the toe box is, allowing her toes to get comfy. Yet, you might not like how they look, at least according to Heather. She says the shoes aren't the right choice for women with big feet.
Features:
Suede leather
Casual style
Rounded toe
Synthetic sole
Slip-in design
U-shaped cut
Mary-Jane strap
Big toe box
Cork footbed and midsole
Slip-resistant outsole