The Better Homes and Gardens Leighton Bunk Bed is great for a home with kids. We noticed most reviewers on Amazon were parents, and many found this unit to be sturdy and strong for active kids, as did our team of testers.
They like it's constructed of solid pine wood. However, the wood is also soft, leaving it prone to scratches, nicks, and chips.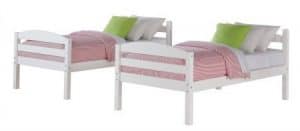 Now:
Speaking of soft, our researchers felt the slats were a bit too soft and may bend under the mattress and occupant's (even a child) weight. Since only eight slats for each level are included, picking up a bundle of extra slats will provide greater mattress support.
How hard is to assemble?
Actually, it's pretty darn simple. If there's one thing our team could agree on about this bunk bed it's how easy it to assemble. We found the instructions clear and simple, with reported assembly times ranging from one to two hours at most.
The Better Homes and Gardens Leighton Bunk Bed comes with a one-year limited warranty and instruction manual.
Features
Dimensions: 78.75" x 43.75" x 64.58"
Weight: 111 pounds
Top bunk for children age six years to young teenagers
Separates into two stand-alone twin beds
Includes eight mattress support slats per level